women's empowerment
income generating project in rural areas
Overall Objective : To increase household income, reduce malnutrition in children and improve living conditions in rural and isolated Palestinian communities, cut off from their sources of employment and social services, through the empowerment of women as wage-earners and the creation of jobs
Specific Objectives: (a) To provide women with vocational training in tailoring and dairy-farming and managerial and technical capacity building to enable them to run a business; (b) To provide women with basic equipment to start a job and support them to become organised in community-based working units to effectively manage and run their businesses; (c) To establish women's associations in tailoring and dairy-farming to represent women's interests, provide them with technical, administrative and logistical support and promote their products in the formal market.
The following activities have been carried out during the implementation period of this interim report.
Activity one: Detailed Planning and Launching of Operation Activities
1. Setting up the administrative mechanism:
2. Presentation of the operation to targeted communities
A series of meetings with direct and indirect beneficiaries were conducted at community level. At the very beginning of the project - preparation stage- HDIP hired very experienced staff to carry out field visits and meet with direct and indirect beneficiaries in the field. The Project Manager, together with other HDIP staff, conducted meetings with local councils, community-based organizations, women's centres, community leaders, and women activists. The field meetings with beneficiaries were designed so as to survey and target each village in the cluster in order to present the idea of the project and involve local communities in the process of selecting participants according to the criteria identified in the project. During such meetings, beneficiaries were offered complete information about the project's goals and objective. Moreover, such meetings strengthened the cooperation with governmental bodies like the Ministry of Local Authorities, which later sent a letter of support to HDIP indicating its appreciation of the project's contribution to poverty reduction and the generation of income for needy families.
3. Establishment of a team of trainers:
HDIP contracted 8 trainers (5 trainers in the Jenin area, and 3 trainers for the Ramallah area). Negotiations with the trainers initially took place over telephone addressing the training subjects, the duration of the training and the terms of reference that were earlier sent out to them. Taking into consideration that a few number of professional trainers were available for this kind of training, the 8 trainers were contracted. Dairy trainers were contracted per training hour (15 US$ per hour), while tailoring trainers were contracted per training course (800US$ per course with the exception of the expert Omar Jaser who was paid 2000US$ per training due to his experience, duties of training and supervising).
Activity two:Preparation of training curricula & manuals
Activity Three: Training courses
1. Vocational training Courses in tailoring and dairy-farming
According to the realised plan of action, activity 3 "Training courses preparation" concluded at the end of March instead of February as originally scheduled in the proposal.
According to "Training courses implementation":
a. Tailoring Courses
The implementation commenced on May instead of March as was initially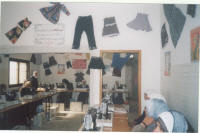 scheduled in the proposal. The delay was due to furnishing and preparation works required for the training centres, as well as a procurement procedures for the supply of the sewing machines.
b. Dairy-Farming Courses
The implementation commenced on April instead of March as was originally scheduled in the proposal.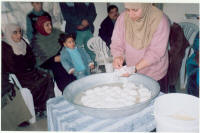 During the interim report period, 38 training courses were carried out: 20 dairy training courses in the Ramallah area (7 training courses per cluster – except for Nelin which run 6 training courses), and 18 tailoring training courses in Jenin (6 training courses per cluster), total number of training days 793, total number of training hours 3355, number of participants 724. Generally speaking, the training courses in both regions were run in parallel, although the dairy training started one month earlier due to the delay of fixing the sewing machines in the Jenin centres.
Training stage.
During this interim period, project staff succeeded in delivering 38 training courses (some are still ongoing, as shown in the above table) in six clusters of both Jenin and Ramallah regions. According to the project's work plan, training courses in both regions run in parallel. Each training course should have lasted 80 training hours over 20 days (4 hours per each training day). During the evaluation of the first training round of the tailoring component, participants and trainers requested the extension of training hours to a total of 100 hours per course as they needed more time for practice. Therefore, project staff, trainers and participants decided to extend the training days from 20 to 22 training days with 4.5 training hours a day (a sum of 99 training hours per each tailoring training). Training hours for dairy training remained as identified in the project.
Although training subjects were mainly based on topics included in the training curricula, trainers developed more training materials based on the reflection of reality and the training needs emerging through implementation. These materials were considered as part of training curricula.
Results of Activities
· Implementation of Training Courses
724 Participants were exposed to training techniques mainly designed to develop their skills and performance in Tailoring and Dairy farming. Training topics set out to meet their training needs and to overcome their difficulties. The training was comprehensive and included all necessary topics in the mentioned subjects.
After sewing training, women became able to sew clothes for themselves and their families. Others managed to sew clothes for their community, as illustrated by the example of some women that went on to design and sew school uniforms and bridegroom dresses.
· Establishment of committees of five participants ( Women's Association)
As a result of the training courses, committees of five participants that involve the most active participants were elected at the end of the training. The five participants, who represent their villages, were expected to take part in the coming project activities and, as active members of the general assembly of the, women's associations were planned to be established by the end of the project. Project staff conducted a series of meetings with the committees to clarify their roles in future project activities with HDIP. They will take part in capacity building training in the field of management, networking, marketing and fundraising. They will be the members of women associations in Jenin and Ramallah aiming to organize women and to identify their priorities and meet their needs.
Dissemination of machines
After training courses women who took part in the tailoring training received sewing machines to enable them generate incomes. 504 sewing machines were distributed for 504 women who participated in the tailoring training. As for dairy part women association will be provided by a milk truck to market their dairy products, each woman will receive milk reservation containers to ensure healthy milk, refrigerators and milk testing devices.
Expected Results
(a) Targeted women have developed skills in tailoring and dairy-farming matching standards to satisfy market demands, as well as managerial and technical capacities to run a business
(b) Targeted women have been provided with equipment and, organised in community-based working units which cover all fields of production and marketing, are able to effectively manage their businesses; (c) Two women's associations have been established and have taken over the overall management of the working units representing their interests, offering them technical and administrative support and marketing their products; (d) Businesses have been established, are sustainable and generate a basic income for the families of the beneficiaries.